FIBER LASER CUTTING MACHINE MARKET: excellent growth also in 2023.
Product HS CODE CN 845611.90-UL845610
Data sources: ESTAT, ISTAT, CONFINDUSTRIA Research Centre, UCIMU Research Centre.
The market for industrial laser systems (laser machines for laser materials processing) increased at an annual average growth rate of 10.5% over the last 35 years. For comparison, the market for machine tools only increased at a rate of about 3%.
The fiber laser in 2021 accounts for 52% of the industrial lasers market with the substitution of CO2 lasers by fiber lasers which dominated market trend in the past decade.
The fiber laser in 2020 accounts for 51% of the industrial lasers market.
At present, major TRENDS in the laser market include a continued PRICE DECREASE and IMPROVED LASER PARAMETERS, which both lead to an EXTENDED RANGE OF APPLICATIONS and strong unit growth.
Until today, the market trend does not indicate saturation.
| | |
| --- | --- |
| Global market report | Metric Details |
| Growth Rate | CAGR of 8.40% from 2022 to 2030 |
| Key Market Opportunities | New product launches and R&D amongst major key players |
| Key Market Drivers | Increasing demand for automobiles and electronics |
Over the past 10 years, China has climbed the ranks and during the global crisis of 2019-20 became the world leader in the laser machinery industry.
In 2022, world exports of laser machines increased by 18% year-on-year to EUR 6.9 billion.
The ranking of the main exporting countries
The top 10 largest exporter worldwide for laser machines are: CHINA (1,593 million, +37%), JAPAN (982 million +6%) , GERMANY (982 million +18%), SWITZERLAND (611 million), ITALY (326 million), SOUTH KOREA (232 million), USA (222 million), BELGIUM, HONG KONG, TAIWAN.
Threat of new entrant
The barriers to entry in the laser cutting machine market are high owing to the requirement of high R&D expenses and a high degree of specialization required in the industry. The mature and prominent players control the market and have established relations with distributors and suppliers which further increases difficulties for new player to enter in the market.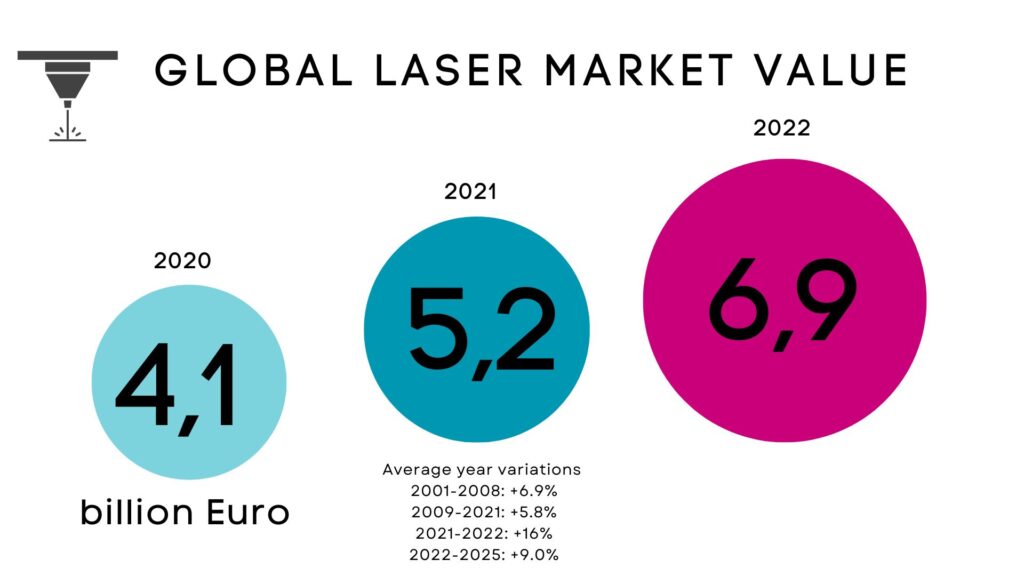 LASER CUTTING MACHINE MARKET: the reasons of the excellent growth also in 2023
Large manufacturing facilities are increasingly implementing laser machines for their cutting, engraving, and marking needs. Laser cutting systems have become the game changer for the metal forming industry, with the laser revolution across the globe. These machines have emerged as a solution to simplify the metal forming process.
Besides, large advances in production technologies and emerging smarter factory concept (read INDUSTRY 4.0) boost market growth. The demand for cutting machines with a high degree of automated features to deliver faster set-up times is rising. Moreover, the growing pressure to reduce time, manual labor, and operational costs while boosting production substantiates the market value.
Almost all industries require tailored laser cutting machining for accurate laser parts that sometimes are complex to produce using traditional methods. Increasing demand for laser cutting machining from industries such as aerospace & automotive, electronics and building & construction fosters market growth.
Laser cutting is sharp, this is because the ray beams of light that make the cut do not wear out and no residual particles can contaminate the processed material. Today, more than ever, laser technology is an increasingly popular choice, capable of being even thirty times faster than mechanical cutting. The decision to use a laser source in the sheet metal industry has enabled unparalleled levels of precision to be achieved, with clean, accurate cuts essential for the production of high value-added finished products.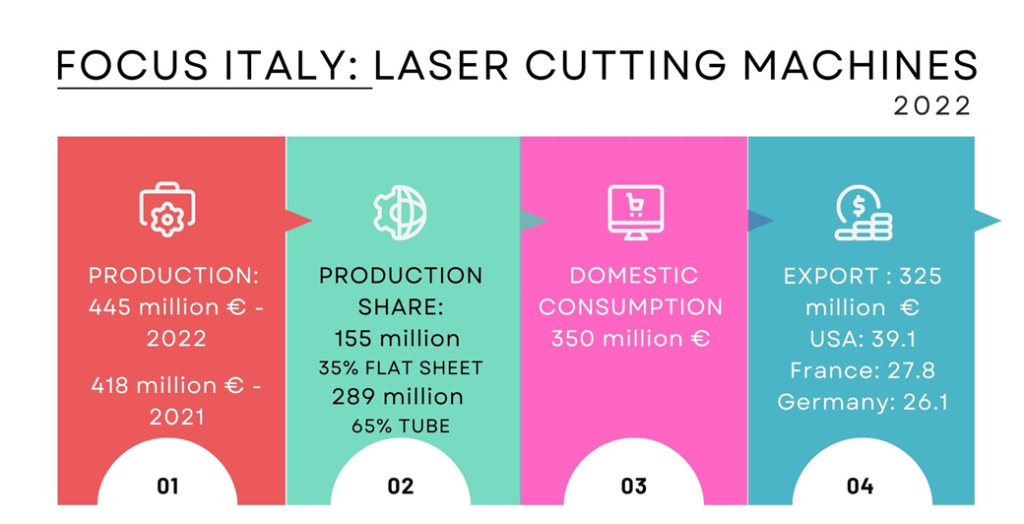 ITALY PERFORMANCE
Italy is the world's fifth largest exporter with € 325,000,000 worth of laser cutting machines exported in 2022.

The top 10 Countries to which Italian laser cutting machines go are: USA, FRANCE, GERMANY, POLAND, CHINA, SPAIN, NETHERLANDS, TURKEY, MEXICO, UK.
ITALY LASER CUTTING MACHINES SUMMARY TABLE
| | | | | | | |
| --- | --- | --- | --- | --- | --- | --- |
| Million Euro | ESTIMATE 2023 | 6 months 2023 | 2022 | 2021 | 2020 | 2019 |
| ITALIAN DOMESTIC PRODUCTION OF LASER MACHINES | | | 445,0 | 417,5 | 322,7 | 375.9 |
| ITALIAN EXPORT OF LASER MACHINES | 322,8 | 159,7 | 325,8 | 276,5 | 231,8 | 300,6 |
| ITALIAN IMPORT OF LASER MACHINES | | | 205,0 | 123,5 | 105,2 | 144,1 |
| DOMESTIC CONSUMPTION | | | 350.0 | 261,9 | 196,1 | 219,4 |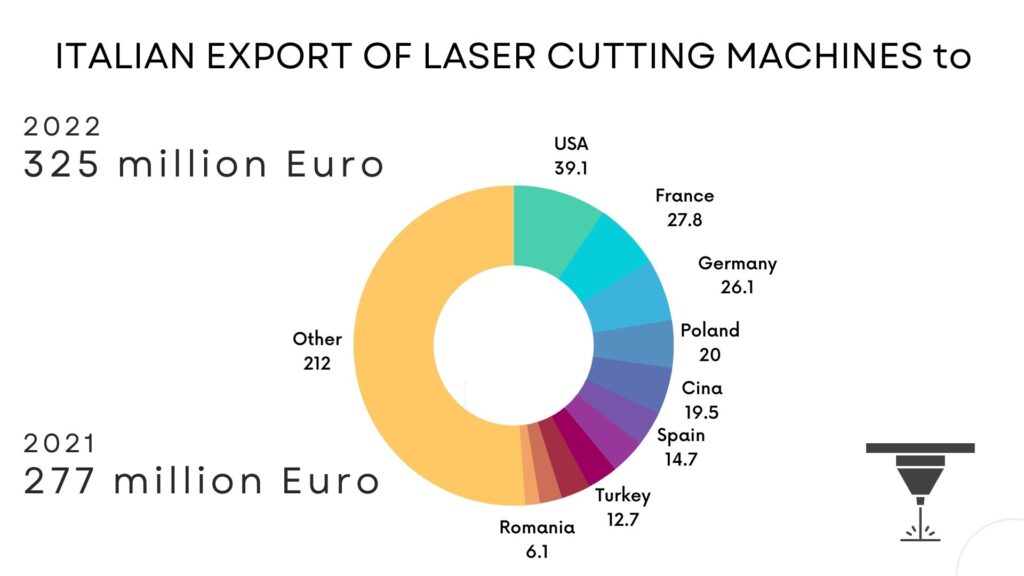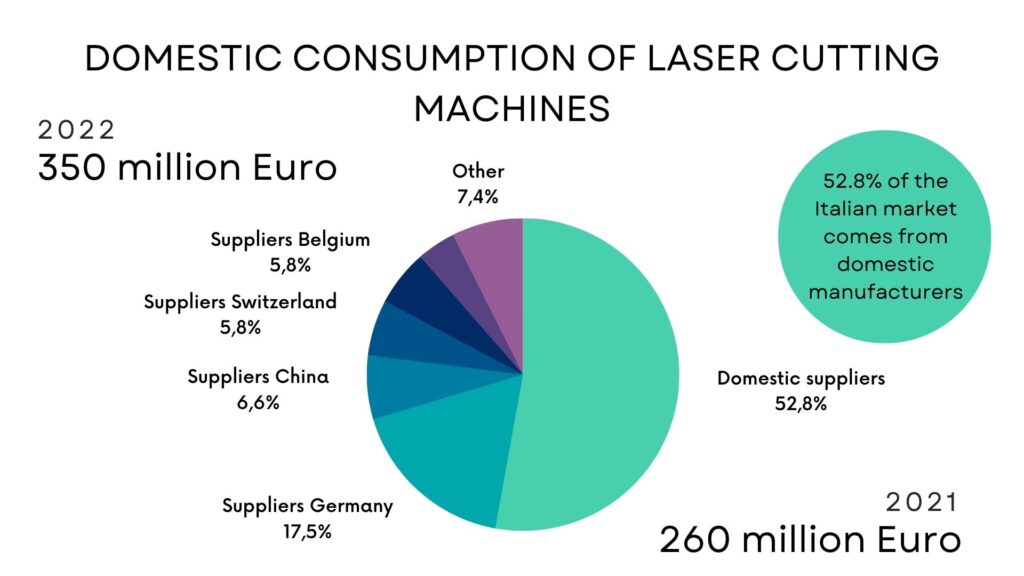 Interested in finding out more about the laser cutting machine industry?
Give us a call or email us and we will be happy to share market data and information that will help you formulate data-based forecasts and budgets for your future investments: info@hymsonitaly.it

Via Serra, 50 – 36030 Lugo di Vicenza (VI)
ITALY
Tel +39 0445 1887042
HYMSON GROUP LTD
---
---
---
RELATED ARTICLES