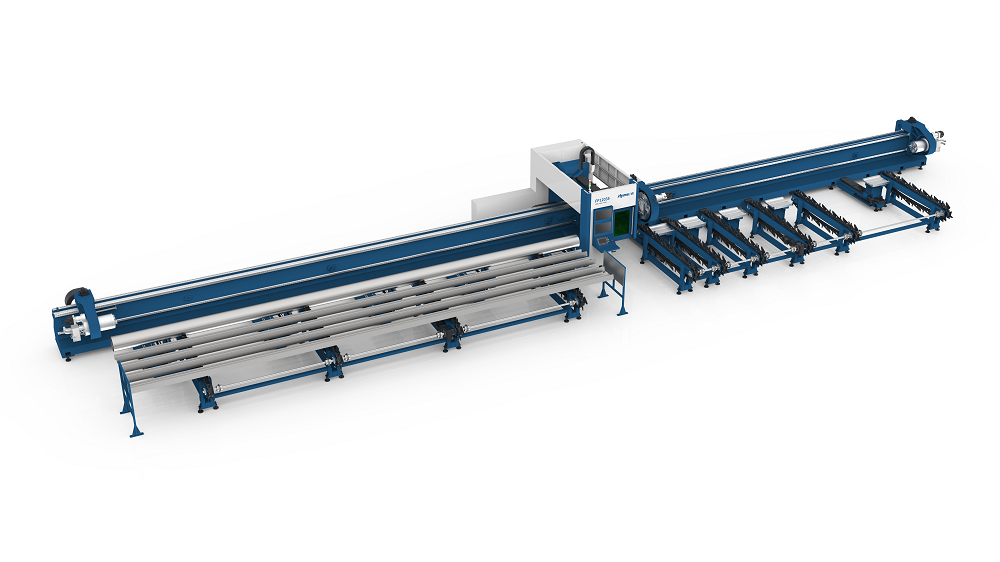 SERIES FP: Heavy duty gantry machine with 4 chucks
Hymson FP SERIES tube laser cutting system has been completely upgraded and refurbished, highly improving the processing efficiency. It is fitted with a four-jaw customised chuck, a brand new mechanism suitable to process long tubes and heavy pipes.
High-end performance fiber optic laser cutting machine for TUBES and PROFILES
The FP SERIES is the winning choice for the most demanding industry that requires high cutting performance to obtain surfaces without burrs or flakes, maximum reliability and excellent return on investment. The system, at the top of the range in laser tube cutting, is highly automated, with five-axis linkage, ultra-fast rotation and high-precision positioning. As to the control, the world's top brand CNC Esa Automotion and the first-class high-power laser are used to make it an advanced numerical control laser tube cutting machine integrating high stability, high precision and high performance. The automation of all operations results in significant time savings and a controlled step-by-step process that is not just depending on the operator's technical skills. The machine can process a wide variety of shapes, opening up new areas of industrial application.
Model FP 12035 | Model FP 12056
The laser tube cutting machine is equipped with an efficient gantry-type structure.
Automatic loading and unloading system ideal for bulk batches and for picking up single pipes from a bundle of material.
Continuous processing 24/7 and highest productivity.
Maximum workable bar weight: Kg/m 150 (1800kg/each tube)
Automatically loadable bar length: from 12000 mm
Maximum workpiece length: 12000 mm fully machined; longer tube cutting on request
The dust and smoke removal system ensures high environmental performance.
The ESA Automotion CNC is a control automation technology with outstanding performance, versatile and self-explanatory in the configuration.
The software developed by Hymson R&D department as an innovative dialogue interface man-machine.
The motor gears, toothed racks and gearboxes are of well-known and reliable brands.
Protection class IP 54
Nesting software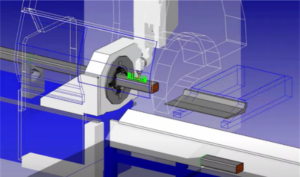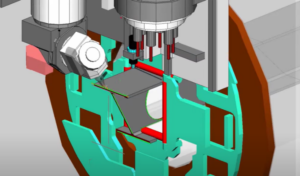 The Tube CAD/CAM software controls all tube and profile cutting systems (3-, 4- or 5-axis machines with one or more spindles and robot cells for tube and profile cutting).
All steps of the programming process are managed: CAD import or drawing of tubes and profiles, management of production orders, automatic nesting of tubes or profiles to be cut, creation and automatic sequence of paths, generation of NC files. The software works automatically but leaves the user the possibility of managing special situations to ensure optimal programming.
The software manages:
CAD import of unit parts or assemblies, with quantity recovery.
Automatic recognition of tube sections and profiles.
Automatic development and straightening of tubes and profiles.
Automatic generation of paths and cutting program for tubes and profiles.
Automation management (automatic programming of loading/unloading systems, coupling and clamping spindles).
Four-jaw chuck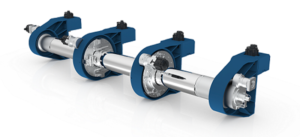 Precise detection of jaw clamping status and tube size to solve the challenges of machining long and heavy workpieces.
Intelligent tube support device, providing multi-point support technology to avoid slamming when machining large tubes.
Clamping detection to avoid accidental disengagement collisions.
Loading and unloading system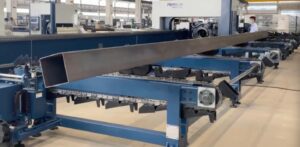 The loading device features multi-mode chain. Semi-automatic feeding can be realized.
Loading system
The system allows to automatically load a single tube from a step loader and is useful in the processing of small batches. The system automatically corrects the position of the tube on the worktable, thus guaranteeing maximum position accuracy.
Wide range of workable tubes in terms of material, weight, and shape.
The length detection function shows the length of each tube to be machined.
The speed of feeding could be programmed or manual adjustment, this could be adjusted for big and small size of tubes.
Unloading system
The unloading table is a flexible lifting platform for workpieces longer than 1200mm and up to 9000mm.
Its function is to separate finished parts from scraps.
Technical specification FP SERIES
Parameter

Model FP 12035

Model FP 12056

Fiber optic laser power

1000-6000 W

Tube type

Shape: Round, Square and Rectangle.

Material: SUS, MS.

Customization for Angle, Channel profiles, H beam

Tube size

Round Ø 20-350mm

Round Ø 30-560mm

Max weight single tube

1000kg

1800kg

X AXIS

Stroke length

0~400mm

0~600mm

Positioning accuracy

0.03mm

0.03mm

Positioning speed

Max 60m/min

Max50m/min

Repetition positioning accuracy

±0,03mm

±0,03mm

Y AXIS

Stroke length

0~12200mm

0~12200mm

Positioning accuracy

0.05mm

0.05mm

Positioning speed

Max 50m/min

Max 30m/min

Repetition positioning accuracy

±0,03mm

±0,03mm

Z AXIS

Stroke length

350mm

500mm

Positioning speed

Max 50m/min

Max50m/min

Positioning accuracy

0.03mm

0.03mm

Repetition positioning accuracy

±0,03mm

±0,03mm

B1, B2 and B3 AXES

Rotation speed

50rpm

25rpm

TUBE LOADING & UNLOADING

Step type automatic loading system

Max tube length with automatic loading

12000mm

12000mm

Max. auto-loading weight

Up to 3tons

Up to 5tons

Automatic loading round tube

Ø 20~320mm

Ø 30~520mm

Manual loading round tube

Ø 20~350mm

Ø 30~560mm

Automatic loading square tube

Ø 20 ~ 220mm

Ø 30 ~ 360mm

Manual loading square tube

Ø 20~ 250mm

Ø 30~ 400mm

Max. tube length unloading

9000mm/12000mm

9000mm/12000mm

Max weight single tube

1000kg

1800kg

Scrap length

≥300mm;≥0mm

≥350mm;≥0mm

Final length

0mm-1200mm;≥1200mm

0mm-1400mm: ≥1400mm

Option

Tilting head

Tilting head
Cutting capacity
MODEL FP 12035

MODEL FP 12056

TUBE

Ø 20 to ø 350

Ø30 to ø 560

SQUARE

20×20 to 250×250

30×30 to 400×400

RECTANGULAR

20×20 to250×200

30×30 to400×200

OVAL AND ELLIPTICAL

20×20 to 250×200

30×30 to 400×200

ANGLE and L-SHAPE

20×20 to 200×200

20×20 to 200×200

FLAT

20×20 to 280×20

20×5 to 300×15

UPN

20×20 to 280×130

20×20 to 400×160

WINDOWS AND SPECIAL SECTIONS

On request
Cutting samples FP
Series