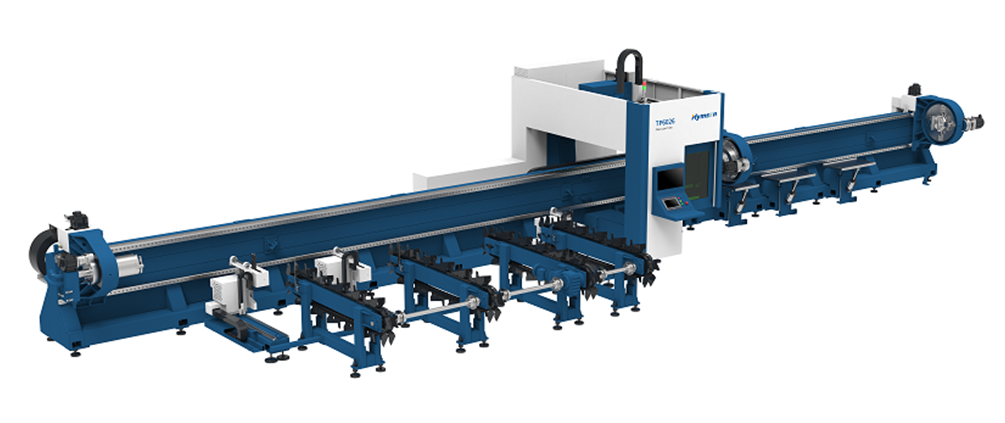 SERIES TP: vertical-frame laser tube with 3 chucks
Hymson TP SERIES tube laser cutting system is a THREE chucks laser machine suitable for heavy duty tube and profile working with state-of-the-art technology, with full length cutting and zero scraps. The three-jaw chuck is a brand-new mechanism used to process long and heavy tubes.
High-end performance fiber optic laser cutting machine for TUBES and PROFILES
The TP SERIES is the winning choice for the most demanding industry that requires high cutting performance to obtain surfaces without burrs or flakes, maximum reliability and excellent return on investment. The system, at the top of the range in laser tube cutting, is highly automated, with five-axis linkage, ultra-fast rotation and high-precision positioning. As to the control, the world's top brand CNC Esa Automotion and the first-class high-power laser are used to make it an advanced numerical control laser tube cutting machine integrating high stability, high precision and high performance. The automation of all operations results in significant time savings and a controlled step-by-step process that is not just depending on the operator's technical skills. The machine can process a wide variety of shapes, opening up new areas of industrial application.
The dust and smoke removal system ensures high performance when removing dust.
The ESA Automotion CNC is a control automation technology with outstanding performance, versatile and self-explanatory in the configuration.
The software developed by Hymson R&D department as an innovative dialogue interface man-machine.
Motor gears, toothed racks and gearboxes are of well-known and reliable brands.
Numerous optional accessories available on demand.
Continuous processing 24/7 and highest productivity.
Protection class IP 54.
Model TP 6026 | Model TP6035
Automatic loading and unloading system for bulk batches
Efficient gantry-type structure.
Honeycomb welded structure with integral plate welding for the highest stability.
One-piece spindle Ø 260mm or 350mm for higher stability.
Model TP9035
Working range Ø 20-350 mm or 240x240mm.
Max bar weight: Kg/m 110 (1000kg/whole tube)
Automatically loadable bar length: up to 6200 mm ( option 9200mm )
Maximum workpiece length: 6200 mm fully machined; option 9200mm for longer tubes.
Technical specification SERIES TP
Parameters

Model TP6026

Model TP6035

Model TP9035

Fiber optic laser power 1000-6000 W

Tube shape: Round, Square and Rectangle.

Material: SUS, MS.

Customization for Angle, Channel profiles, H beam

Tube size round

Ø 10-260mm

Ø 20-350mm

Ø 20-350mm

Tube size square

180x180mm

250×250

240×240

Max weight whole tube

360kg

1000kg

1000kg

Max weight single tube

60kg/m

160kg/m

110kg/m

X AXIS

Stroke length

0~300mm

0~400mm

0~400mm

Positioning speed

Max 60m/min

Max 60m/min

Max 60m/min

Positioning accuracy

0,03mm

0,03mm

0,03mm

Repetition positioning accuracy

±0,03mm

±0,03mm

±0,03mm

Y AXIS

Stroke length

0~6200mm

0~9200mm

0~9200mm

Positioning speed

80m/min

50m/min

50m/min

Positioning accuracy

0,05mm

0,05mm

0,05mm

Repetition positioning accuracy

±0,03mm

±0,03mm

±0,03mm

Z AXIS

Stroke length

300mm

350mm

350mm

Positioning speed

60m/min

60m/min

60m/min

Positioning accuracy

0,03mm

0,03mm

0,03mm

Repetition positioning accuracy

±0,03

±0,03

±0,03

B1, B2 and B3 AXES

Rotation speed

100rpm

100rpm

100rpm

STEP TYPE AUTOMATIC LOADING SYSTEM

Tube length with automatic loading

3200-6200mm

3200-6200mm

3200-9200mm

Max size for auto loading (Round tube)

Ø 20-220mm

Ø 20-320mm

Ø 20-320mm

Max size for auto loading (Square tube)

160x160mm

20-220mm

20-220mm

Max Scrap

0mm (> 800mm)

270mm (< 800mm)

0mm (>1000mm)

300mm (<1000mm)

0mm (>1000mm)

300mm (<1000mm)

AUTOMATIC UNLOADING SYSTEM

OPTION: Tilting head
Cutting size MODEL TP 9035
| | |
| --- | --- |
| Tube | ø20 to ø 350 |
| Square | 20×20 to 250×250 |
| Rectangular | 20×10 to 20×300 |
| Oval and Elliptical | 10×20 to 20×300 |
| Angle and L shapes | 20×20 to 250×250 |
| Flat | 20×5 to 300×15 |
| UPN | 20×20 to 250×250 |
| Windows and special sections | upon request |